FairShares is a three-step methodology for social enterprise development supported by:
a set of brand principles;
four social auditing tools;
three advanced diagnostic / research tools;
four sets of model rules for companies and co-operatives
a Wiki containing technical information about the model rules and diagnostics.
teaching and learning materials
a methodology for creating a FairShares Lab.
Download a PDF Introduction to the FairShares Model V2.1
They were all created during a research programme on democratising charities, co-operatives and social enterprises involving academics at Sheffield Hallam University and Manchester Metropolitan University in the UK. The model promotes a new approach to capital allocation that recognises entrepreneurial, labour and user activities as well as financial contributions. This gives more stakeholders a fairer share of the wealth created by a business.
First, we take the definition of social enterprise created in January 2012 by Social Enterprise Europe Ltd and create a brand to represent it. Level 1 of the FairShares Model is created by embedding brand concepts through coaching and social auditing.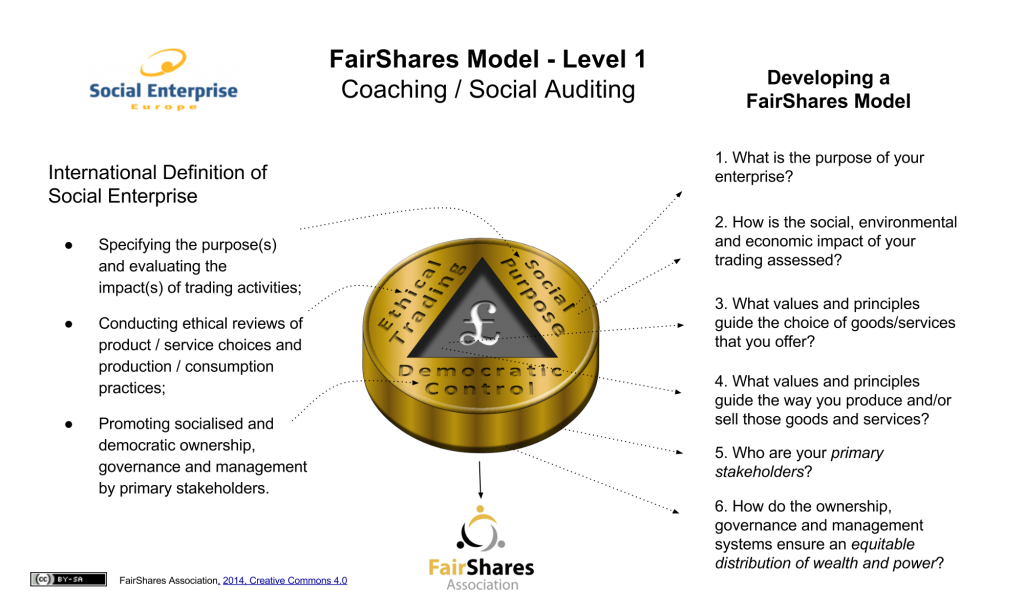 Second, we take Level 1 coaching and social audit activities to a new level by using them to think about enterprise design.  At Level 2, the brand principles inform an architecture for ongoing development of ownership, governance and management systems.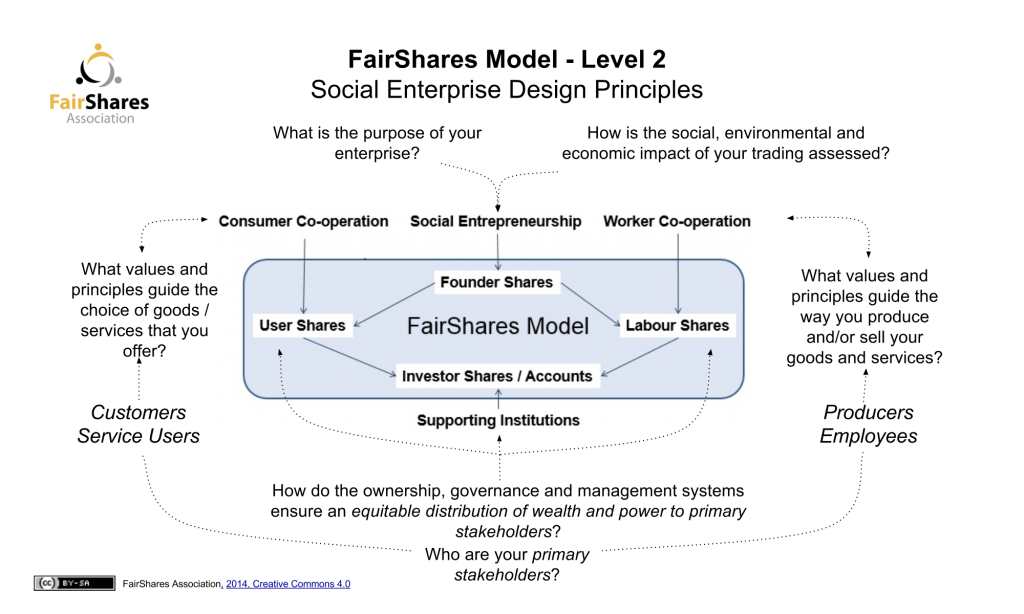 Lastly – to ensure the systems endure – Level 1 brand values and Level 2 design principles are embedded in the constitution of the organisation.  At Level 3, Levels 1 and 2 are embeded into the organisation's DNA through the re-incorporation of existing enterprises and/or incorporating new co-operatives and companies that use FairShares Model Articles of Association.  These ensure the replication of the new approaches to ownership, governance and management to promote social transformation.