FairShares is a philosophy for creating and sustaining networks of solidarity enterprises that share power and wealth amongst their entrepreneurs, producers, consumers and investors. Its effectiveness is linked to its resources for self-governing social enterprises operating under Company, Co‑operative or Association Law.  It offers a unique approach to enterprise ownership, governance and management through its recognition and integration of founders, producers, employees, customers, service users and investors.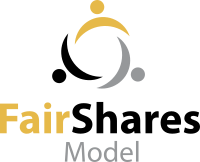 The FairShares Model is a way of thinking about enterprise and a three-step methodology for social enterprise development supported by:
They were all created during a research programme on democratising charities, co-operatives and social enterprises involving academics and partner organisations at Sheffield Hallam University and Manchester Metropolitan University in the UK. The model promotes a new approach to capital allocation that recognises entrepreneurial, labour and user activities as well as financial contributions. This gives more stakeholders a fairer share of the wealth created by a business.
Introduction to FairShares Brand and Model (PDF)
Introduction to FairShares V2.1 (Powerpoint Presentation)
To receive our mailings: