FairShares is a philosophy for creating and sustaining networks of solidarity enterprises that share power and wealth amongst their entrepreneurs, producers, consumers and investors. Its effectiveness is linked to its resources for self-governing social enterprises operating as companies, co-operatives, associations and partnerships.  It offers a unique approach to enterprise ownership, governance and management through its recognition and integration of founders, producers, employees, customers, service users and investors, and support for Creative Commons IP in enterprise development.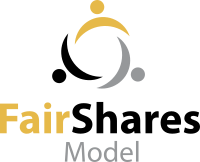 The FairShares Model can be applied as a methodology for social enterprise development. It is supported by:
They were created during research programmes on democratising charities, co-operatives and social enterprises at Sheffield Hallam University and Manchester Metropolitan University, and an EU Erasmus+ Project to develop FairShares Labs. The model promotes recognition of capital contributions (natural, human, social, intellectual, economic and financial) by founders, labour, users and financial supporters. Each stakeholder is allocated a fair share of the wealth and power created by a business.
If you are new to FairShares, this book and presentation will inform you about history and development of the FairShares Model.
The Case for FairShares (PDF Book)
A Short Introduction to FairShares (Powerpoint Presentation)
Find out more on:
Becoming a member or supporter